Strawberries have started popping up at the supermarket – joy! Especially for the converted cake eater I share most of my life with (besides when I am in the kitchen when he knows well he is to leave me alone!). Now, when we first started dating, he would never eat cake but would demolish any quantity of chocolate chip cookies you are stupid enough to give him access to. Whether the smells coming out of the oven have enticed him over time or my constant requests to try this and that and tell me if he likes it have changed his mind, I don't know. But recently he has started voluntarily eating cake. Not all types, of course, but as he says: baby steps.
Seeing as it was his birthday yesterday (and his work colleagues had 'gently' hinted they are expecting cake, those greedy chops!), on Saturday I asked him what he'd like me to bake it. It didn't even take 3 seconds for him to decide he wants his favorite strawberry and white chocolate cupcakes. I owe the recipe for the base to the Marks & Spencers book Sensational cupcakes. The addition of the strawberries and chocolate was a lucky hunch which has proven to be a success. I did two batches of the batter – one I transformed into a Giant, and the other turned into actual cupcakes. So behold, first a picture of the finished Giant which birthday boy took to work, and then the recipe!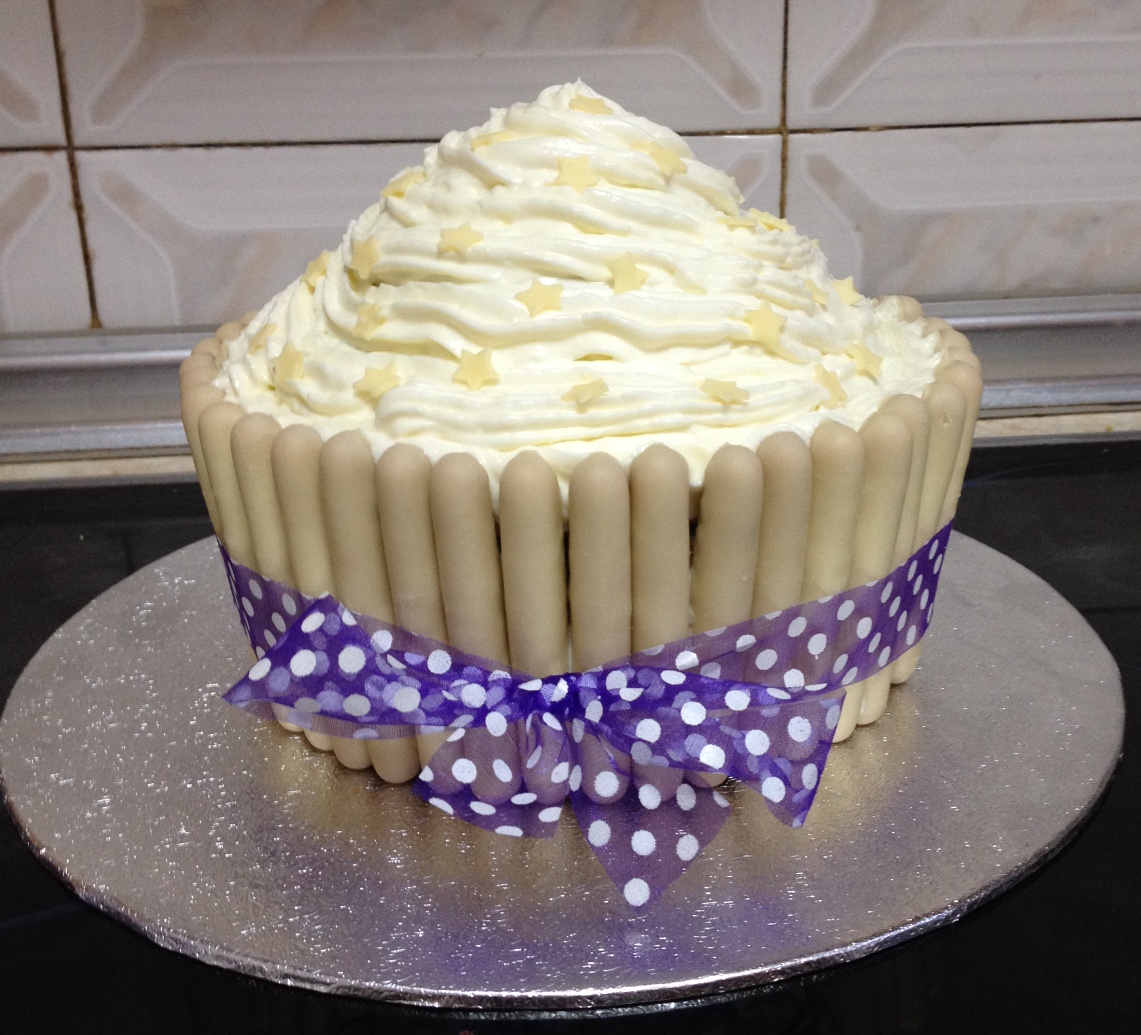 Light strawberries and white chocolate cupcakes with cream cheese frosting
For the batter (makes either 1 Giant or 24 cupcakes):
60 ml whole milk
4 large egg whites
1 teaspoon vanilla extract
225 g plain flour
200 g caster sugar
1 teaspoon baking powder
1/2 teaspoon salt
1 teaspoon ground cardamom (or if you, like me, are never able to find it, skip it)
190 g unsalted butter, softened (or if you, like me, forget to leave it at room temperature, melt it slightly in the microwave)
+ approx. 300 g fresh strawberries (or cherries work as well but are more of a pain to pit) & 100 g white chocolate chip cookies
For the cream cheese frosting:
200-250 g of full-fat Philadelphia cheese (NB: At room temperature. The longer it sits out of the fridge, the better. Not 2 weeks though, please!)
40 g butter
Icing sugar to taste (I don't like overly sweet frosting so normally put around 100 g but up to you)
1 teaspoon of vanilla extract
Cupcakes:
Preheat oven to 170 degrees Celsius (fan oven: 150 degrees) or gas mark 3 1/2.
Mix the milk, egg whites and vanilla together in a medium sized bowl till fluffy and set aside. In a large bowl, mix the dry ingredients to blend. Add the butter to the dry ingredients (I prefer to melt it before as it makes it easier, especially in winter when room temperature is significantly lower) and half the beaten eggs. Mix slowly till everything is moist, then beat vigorously for 1 minute. Add the remaining eggs and beat again. Add chocolate and strawberries. TIP: Gently cover the chopped strawberries with a little flour – this will keep them from sinking to the bottom. Spoon the batter into cupcake cases which you have put in your cupcake tray (or fill kind of equally in a Giant cupcake mold which you have first buttered then sprinkled with flour) – you would need to fill the cases 3/4 as these won't rise as much as others. Bake cupcakes 25-30 mins or Giant cupcake about an hour or even sligthly more, till they are golden and a skewer comes out clean.
Frosting:
While the cakes are in the oven, beat the cream cheese on a high speed till smooth yet fluffy (2-3 minutes). Add vanilla extract and beat for a bit again. Then put the mixer speed down and slowly add icing sugar until the mixture has the proper frosting consistency (or you think one more sugar dust and you risk diabetes). Leave in fridge for at least 40 mins to set.
Once the cakes have cooled down, take the frosting out of the fridge and decorate. Voilà!